The Heath Care Cost Institute (HCCI) has released the 2015 Health Care Cost and covers the health care cost and utilization trends for Americans younger than age 65 and covered by employer-sponsored insurance (ESI)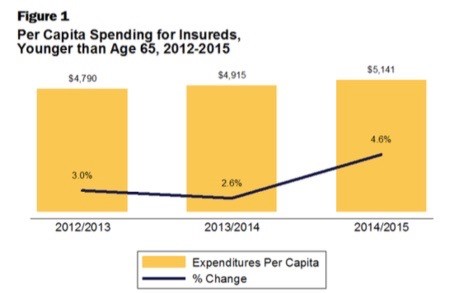 It includes data from four national insurance companies: Aetna, Humana, Kaiser Permanente, and UnitedHealthcare.
In 2015, spending per capita for the ESI population grew by 4.6% over the previous year, to $5,141 per person   This growth was faster than previous years' growth: 3.0% growth in 2013 and 2.6% growth in 2014.
---
Milliman Medical Index for 2015
Published May 2016
"Our lowest annual increase in 15 years".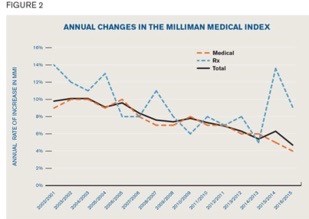 The percentage increase in the MMI is at its lowest rate ever. However, even at 4.7%, which is the lowest annual increase since we first measured the MMI in 2001, the rate of increase is still well above growth in the consumer price index (CPI) for medical services,2 and far surpasses the average 2% annual increase in median household income between 2004 and 2014.
---
2015 Express Script Trend Report
March 2016
YEAR OVER YEAR INCREASE SLOWED TO ONLY 5.2% , ROUGHLY HALF OF WHAT IT WAS IN 2014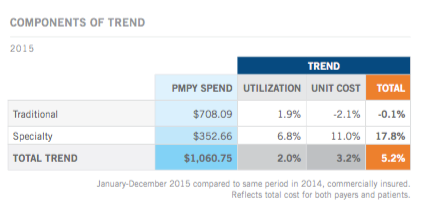 ---
Survey on employers by Towers Watson and the National Business Group for Health
The cost of providing employer-sponsored health care benefits, according to the survey, is expected to increase 4.4 percent this year, climbing to $9,560 per employee compared to last year's $9,157.  That's a bigger jump between last year and 2012 but not much of one. Employer health costs in that period rose 4.1 percent, the lowest increase in 15 years.
March 6, 2014